EXHIBITION. Sounding DIY III. Vitalist Materialism.
Friday 06 –Sunday 15 December 2019
HOP Projects CT20
Folkestone, England, United Kingdom
www.hopprojects.org
Opening, Friday 06 December 201, 6 -9 pm
The concert, Saturday 07 December 2019 6-9 pm

Curator's Talk,  Sunday 08 December 2019, 6-9 pm
Closing party, Saturday 14 December 2019, 6-9 pm

Artists in exhibition:
Artists performance at performance space:
Curatorial Text
The referential framework of the exhibition relies on the so-called DIY culture (do it yourself), which emerged from the 1970s as a reaction to the technological deployment. With influences of the underground vanguard movements, the handmade culture currently sets as an exponent of the free culture and open source, and movements such as hacker and maker. The results of these practices involve an interdisciplinary connection between art, science and technology that improves the creative aspects of contemporary art and cultural production. Moreover, sound art practices enrich interconnection with music and engineering. The exhibition pretends to highlight DIY practices in front of the capitalist industry. Thus, it represents an essential change in the prototyping of musical instruments and sound objects that have efficiently set as a primary creative impulse in our century. The research will also be interested in finding works which relate to the art, science and technology interference. Moreover, it will focus on digital arts which establish a bridge in between art and music and will focus on music makers, too. The exhibition will highlight the collaboration between musicians, visual artists, and curators to research new genres of experimental and contemporary art.
The exhibition shows artists in the field of handmade culture, music, sound art, art and technology and digital media. The exhibition focuses on the practice of hacker and maker at the intersection of art, science and technology, focused on sound art and music production. The development of musical prototypes within the artistic sphere is presented as a contemporary paradigm that transforms the inertia of the capitalist system with hacked prototypes. In this change of production logic, the art/music relationship presents the sphere of techno-capitalism as an unsustainable and abusive threat. In the exhibition, we collaborate with artists who develop musical instruments to offer solutions to the current production system.
Many are the current environmental issues, and some of them are directly linked to the overproduction of electronic and technological devices. Recent technological developments have undoubtedly produced an excessive amount of electronic waste (e-waste), due to the planned material obsolescence in the information technology industry. Moreover, it generates an exponential growth of e-waste with related implications in terms of management of discarded materials, recycling resources and impact on the environment as well as human health. Electronic and plastic materials of different nature and origin have been the object of artistic practices since at least fifteen years. The idea of considering electronic waste not as an obsolescent and worthless material, but rather as a potential creative element is being discussed in the contemporary artistic debate. There are many expressive possibilities offered by the creative practices of recycling and its possible applications in different productive fields, the art of course, but also product and fashion design, architecture, object-data integration practices in the Internet of Things, and augmented realities.
So, how do artists and curators work and address all these matters? How creative practices denounce the exploitation of natural resources?
Counting with the works of artists and collaborators, among other participants, this exhibition appoints to different artists and collaborators to develop environmental and sustainable media art practices related to mining, DIY and hacking OS / OH.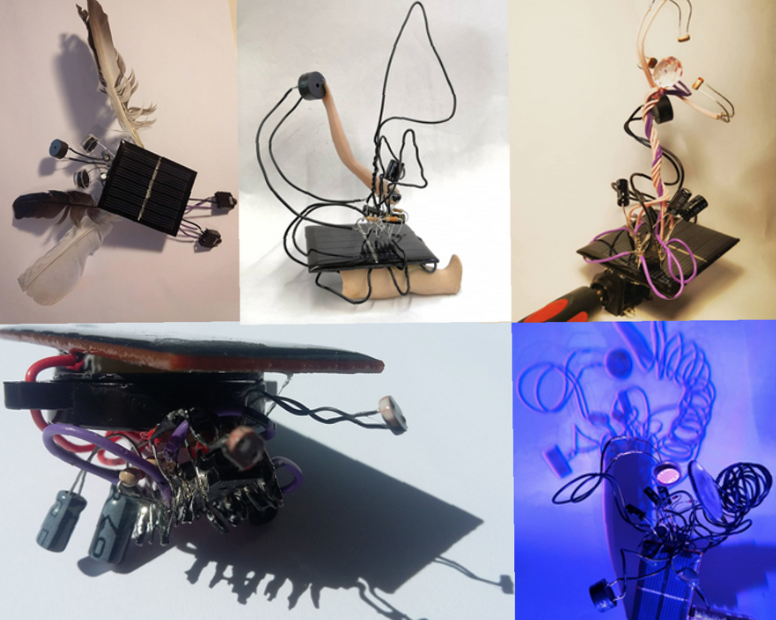 xname – sculptures
xname is an Italian interdisciplinary artist based in London. She was born in Milan and she has been living many years in Bologna and Amsterdam. Her interests include metaphysics, electronics, software, performance and interactivity. She works with self made instruments and open source software for live performance and real-time installation, expanding from visual and software art to electronic music. Her work, ultimately cryptic, ritualistic and noise, engages in the construction of perceptual phenomena and environments that explore the concepts of illusion and the virtual, stimulating new forms of perception and questioning the notion of materiality and presence, and the role that memory, experience and eventually our ancestors have in the formation of identity. "My work, mixing different practices, talks about social and individual identities, and their interfacing with reality and imagination. Website https://xname.bigcartel.com/product/noisebots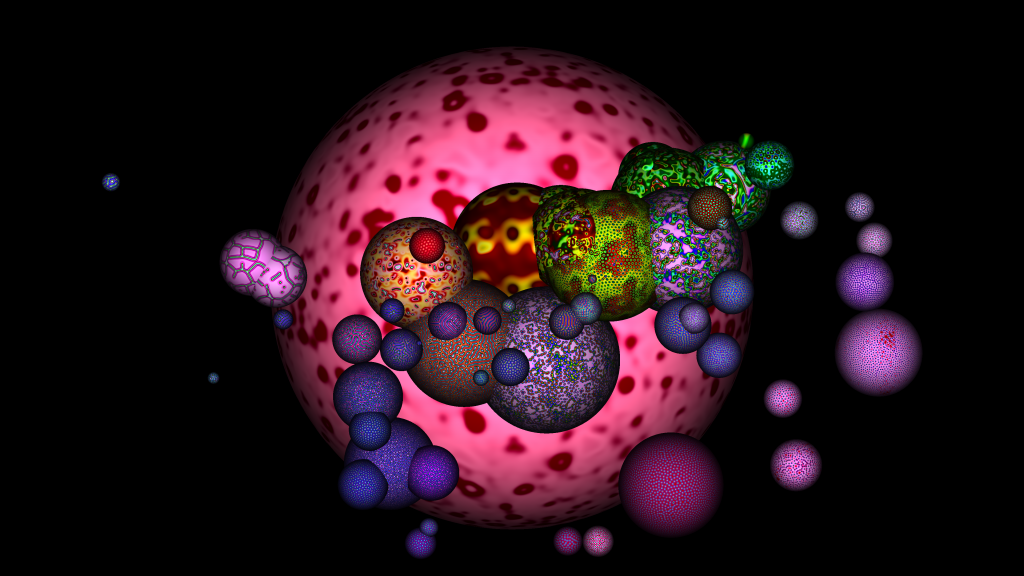 Claude Heiland-Allen – projection
Claude Heiland-Allen will participate in the exhibition within the work rdex, an AV installation, based in reaction-diffusion parameters which resemble minerals' formation processes. RDEX is an installation that explores in an autonomous hyperspace mathematical model, mining for interesting emergent behaviour (life-alike, alife).
Claude Heiland-Allen is an artist from London, UK interested in the complex emergent behaviour of simple systems, unusual geometries, and mathematical aesthetics. Since the early 2000s he uses and develops Free/LibreOpen Source Software for computational artworks. He has performed, exhibited and presented internationally across Europe and beyond.
Website https://rdex.mathr.co.uk/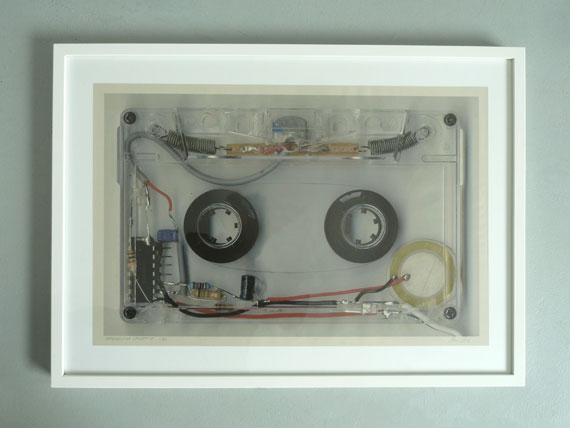 Stephen Cornford – print
Stephen Cornford is a media artist and experimental musician who works by reconfiguring consumer electronics into expressive and reflective devices as a means of critiquing the ideologies they embody, through reverse engineering processes that take the objects to their mineral origin. He has had solo exhibitions in Tokyo, Berlin, Brighton, Bergen, Ljubljana & London and his work has been included in group exhibtionsat the ZKM Centerfor Art & Media, Karlsruhe; ICC, Tokyo; Hausder ElectronischeKunst, Basel; Sigma Foundation, Venice and at Bienallesin Lodz and Poznan.  Website http://stephencornford.net/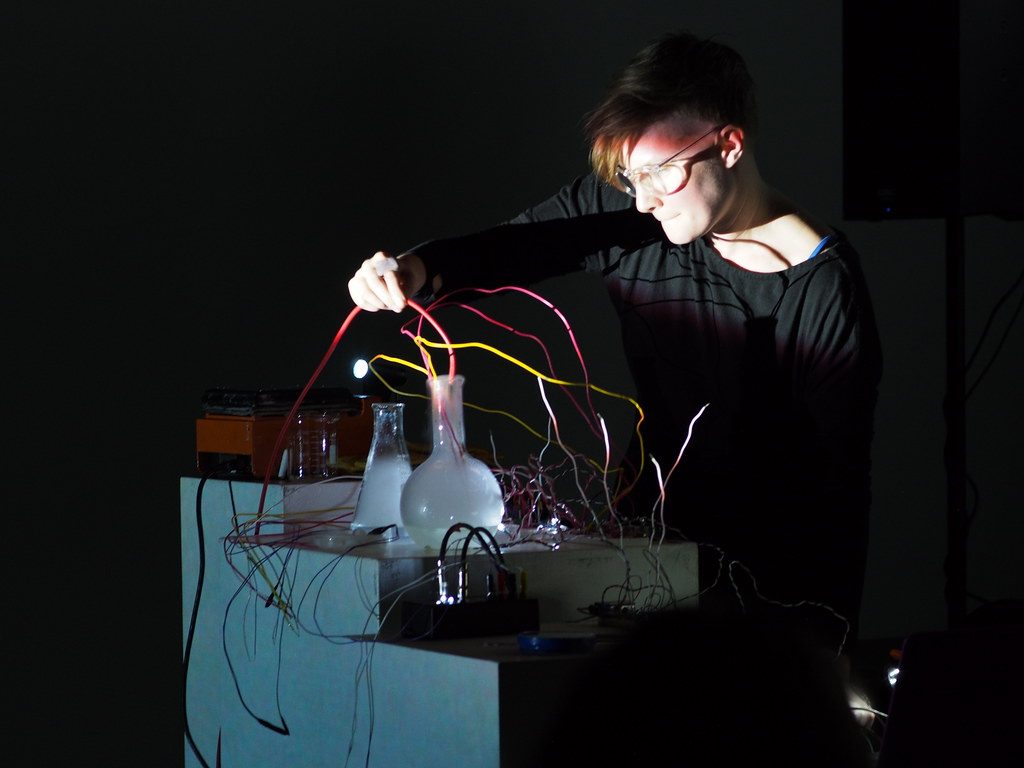 Erin Sexton – video Erin Sexton (b. 1982) is a Canadian artist based in the forest near Oslo, Norway. Her sculptures and installations involve found objects, tarpaulin, tape, traditional rope work (knots, splices, netting), textiles, and crystallization processes. A sci-fi survivalist narrative runs through her work, exploring alternate paradigms, strange topologies, soft apocalyptics, and speculative cosmologies. She is a licensed amateur radio operator, using ionospheric transmission for collective ritual and expanded forms of communication. Erin will exhibit a and a multi channel video about crystallized sculptures. Crystals and solutions are sonifiedwith custom electronics, creating a tactile link with matter and energy through electro-chemical improvisation. Sound and process are embedded within matter while zooming into the symmetries that structure it, also exploring the relation of 'self' to the fractal self-similarity of nature. Website http://erinsexton.com/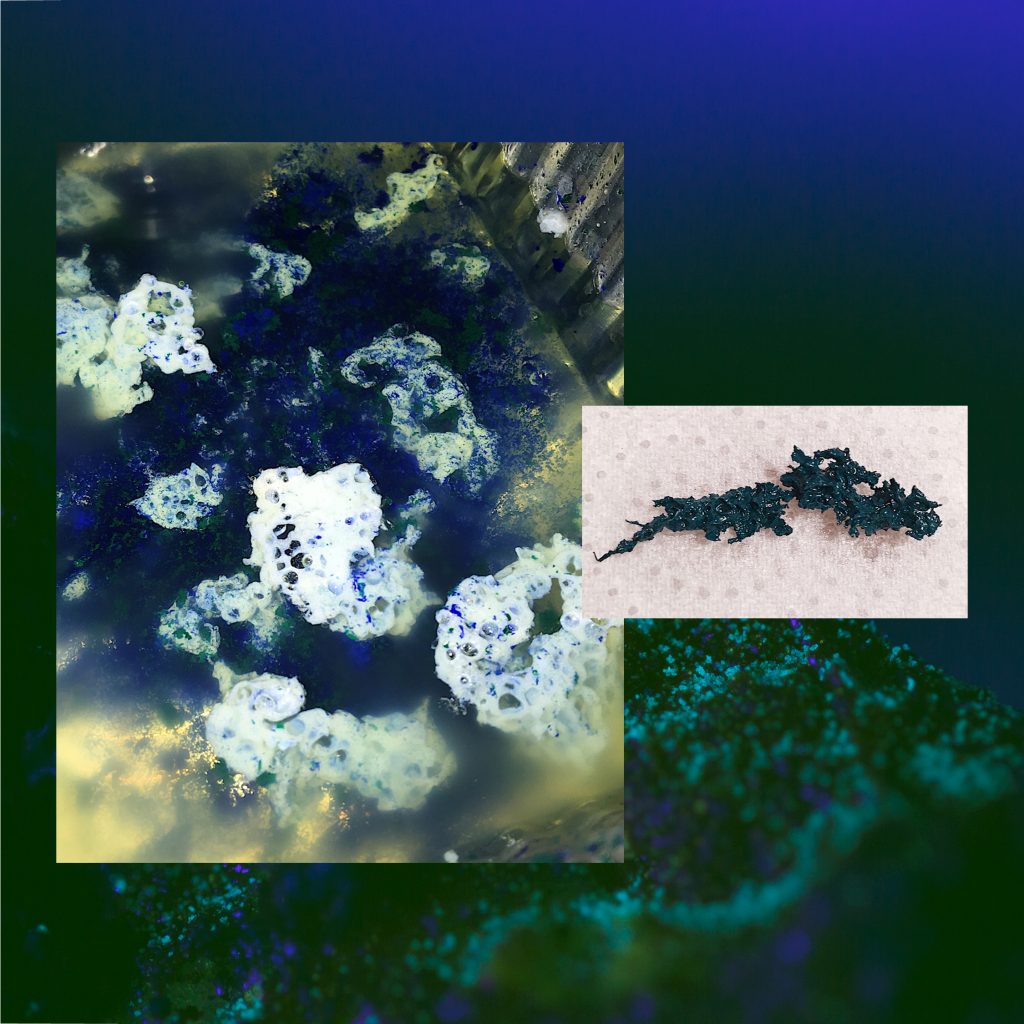 Greg Orrom Swan – video Deep Fried Acrylic Paint Tempura, 2018 Single channel video, 02:00mins. Plastic, humans supposed wonder-creation, was once a living organism. Ancient marine organisms and biotic components were compacted and cemented by heat and pressure into black crude oil hydrocarbons, which are ultimately processed into plastics. In other words, this substance is made from organic elemental constituents, carbon-based lifeforms. These once-living things are now ubiquitous in the form of plastics, they are found in honey that bees make and we eat, they flow with the water from our taps, they are distributed throughout the terra, shifted about by human and terrestrial processes. What does it mean if everything contains plastic? What does it mean that its everywhere? In fish lungs and our pizza. This looping video expresses this ever-changing and shifting collection of particles—from organs to plastics to paint to rock. Artists acrylic paint was deep-fried from gloop to crystalline shapes, evoking its once rock-like makeup, the video is an algorithmic drawing of the process it undertook.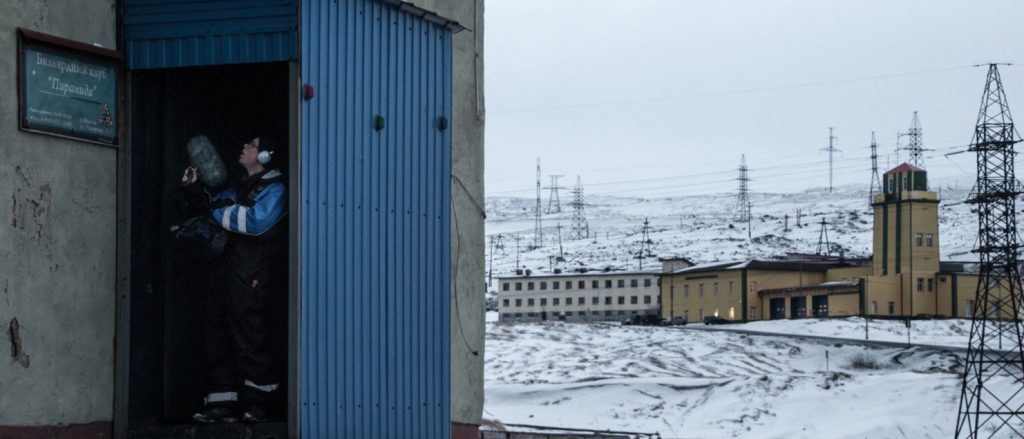 BJ Nilsen –sound installation BJ Nilsen, UGOL is part of a larger project called ORE; an art project revolving around mining and its impact on society and cultural relevance. UGOL touches upon the logistical side of coal, traveling with train via Murmansk.
Website http://bjnilsen.info/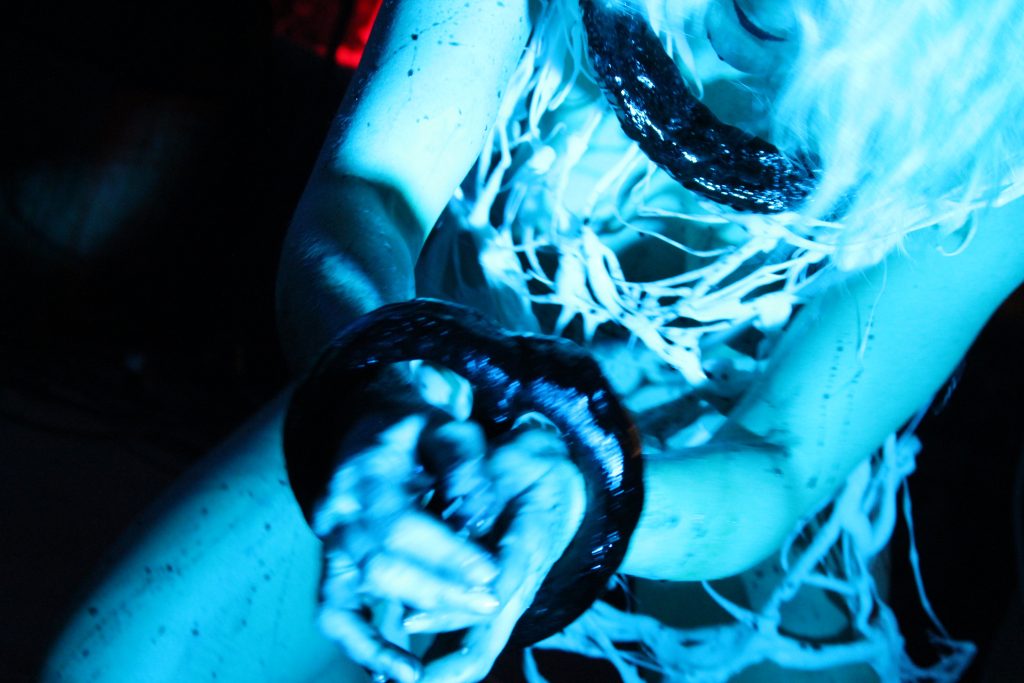 Lou Barnell – Artists in concert  / I am an explorer of mysteries of flesh, body, sound and knowing. I make music to dissolve the suffocating, cheap packaging of women in art and life. An explosion of sensory experimentation, brutalist visceral choreography, and sensual granular sounds, I am a brutal, dream-like hypnotic soup of sensory tests, extended vocal techniques, wearable sound-material sculptures, biorthymic monitors and metronomic devices. I create scores as physical traces with sensory experiences and materials. Dreams, materials and technology provide exhilarating possibilities for us to respond to social and environmental constraints and crises. I create a world akin to a kaleidoscopic ghost train where dance and space are mutually reinforcing signifiers, signs and instruments. https://www.loubarnell.co.uk/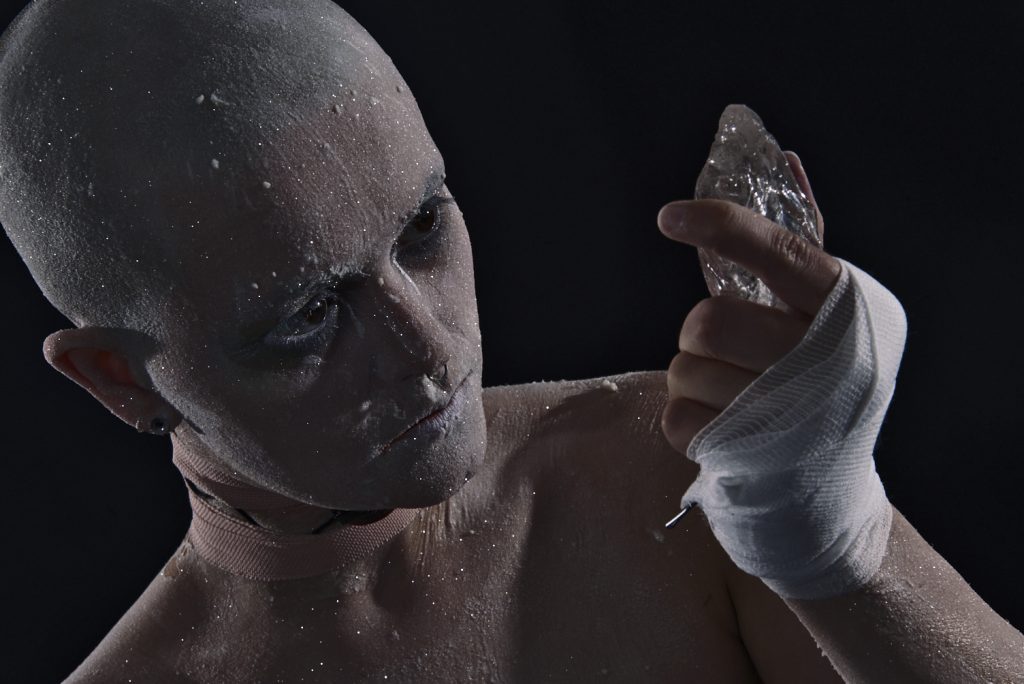 Mother Disorder – Artist in concert / Using microphones attached to the body, Mother Disorder enacts performance piece Crystalline. Foreboding electronic music accompanies the visceral awakening of a being. Surrounded by shards of itself and spurned by surrounding onlookers the crystal being must violently shed. Blending performance art and dark improvised electronic music this work conceptualises Mother Disorder's life long experiences with mental illness and neurodiversity into an ethereal and abrasive holistic experience. https://www.motherdisorder.co.uk/
The Maker Daily supports this exhibition https://paper.li/TAB_DIY/1511147741#/
SOUNDING DIY III
Vitalist Materialism
@ HOP Projects –
Curatorial Residency
Curated by Laura Netz