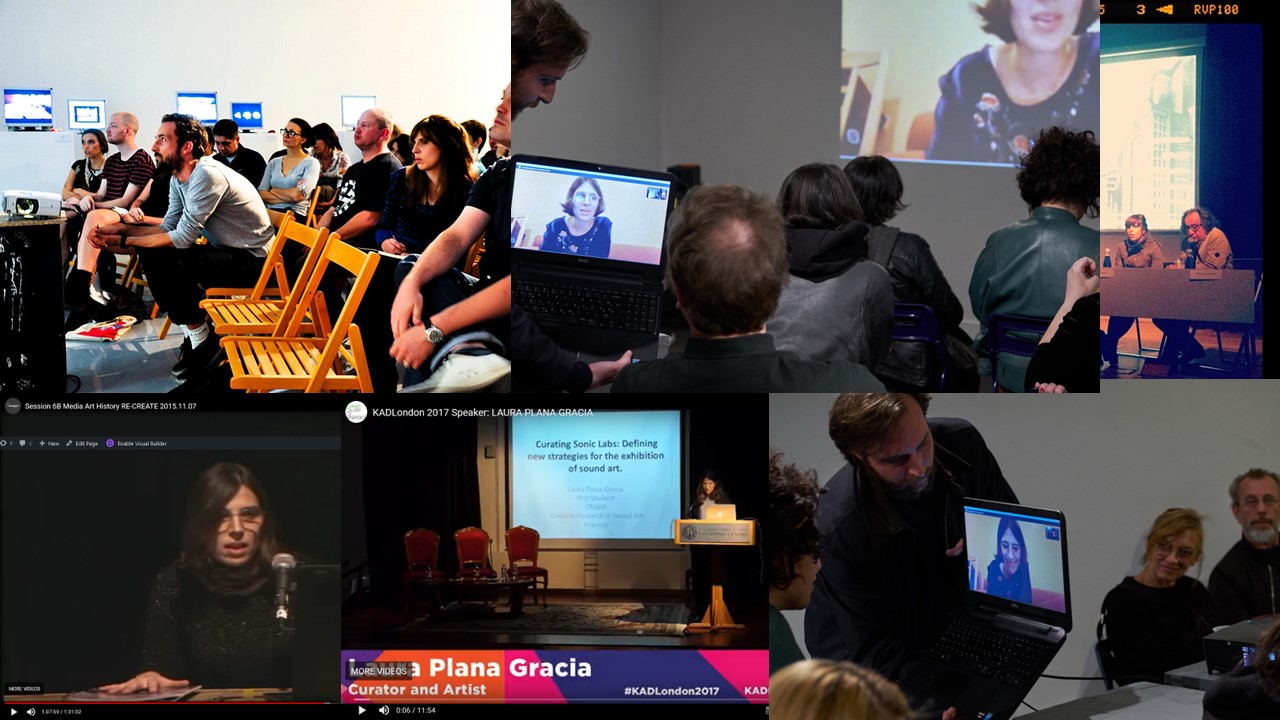 2023 Artificial Intelligence: Power and Opacity of Intelligent Systems, Catalonia House Conversations, London
2023 SOUNDSTAINABILITY, Paesaggio Sonoro, Lugano
2023 10th Int. Conf. on the Histories of Media Art, Science and Technology (Venice, Sep. 13-16)
2022 ISEA2022 Barcelona, Spain – video here: https://isea2022.isea-international.org/event/online-presentations/ 
2021The Listening Biennale, London
2021 KISMIF Conference 'Keep It Simple, Make It Fast! DIY Cultures and Global Challenges', Portugal – online (video-presentation here)
2019 Des-Adarve, Tudela de Navarra, SP.  Program here.
2019 RE:SOUND, Media Art Histories, Aalborg University, DK. 
2019 Vitalist Materialism – Mining Life, GMK Zagreb, streaming.
2019 Colloque sur les arts sonores. Apo33, Nantes, FR.
2019 FLUX: Social, The Library, London.
2017 CV FREQS VIII, House of Vans, London.
2017 Kaleidoscope of Art & Design. A Panel Discussion. The Nehru Centre, London.
2017 Balance / Unbalance. Plymouth University, UK.
2017 RNUAL Research Network UAL, London.
2017 Sonic Cyberfeminism, University of Lincoln, UK.
2017  LCC Sound Arts Visiting Practitioners, Performance Lab, LCC, UAL. London
2016 Test Lab, The Doctoral Platform, UAL, CSM, London.
2016 4S/EASST CONFERENCE BCN-2016, Science+Technology. Maker Movement, FabLabs, Hackerspace and improvisation: Science, Technology and Education by other means?
2016 ISEA 2016 HK Cultural Revolution, Hong Kong.
2015 Media Art Histories Re-Create: Theories, Methods and Practices of Research-Creation in the Histories of Media Art, Science and Technology, Montreal, Canada.
2015 LASER London, Central Saint Martins, School of Art and Design, UAL London.
2014 Archives 2.0: Saving the Past, Anticipating the Future, National Media Museum, Bradford, England.
2014 EASST 2014 European Association for the Study of Science and Technology, Situating Solidarities: social challenges for science and technology studies. Security and surveillance. Torun, Poland.
2014 Soundings Cities. Invisibles Places, Portugal.
2014 SSN2014 Surveillance Simposium Network, CCCB Center Contemporary Culture Barcelona.
2013 FLOSSIE. Women and Open Software. Queen Mary London University.
2012 Any Metropolis. C.C.Urgell. Barcelona.
2011 MOTA Museum of Transitory Art, Belgrade, Serbia.
2010 ISEA 2010 Ruhr, Germany.
2010 Arts for Human Rights. London.