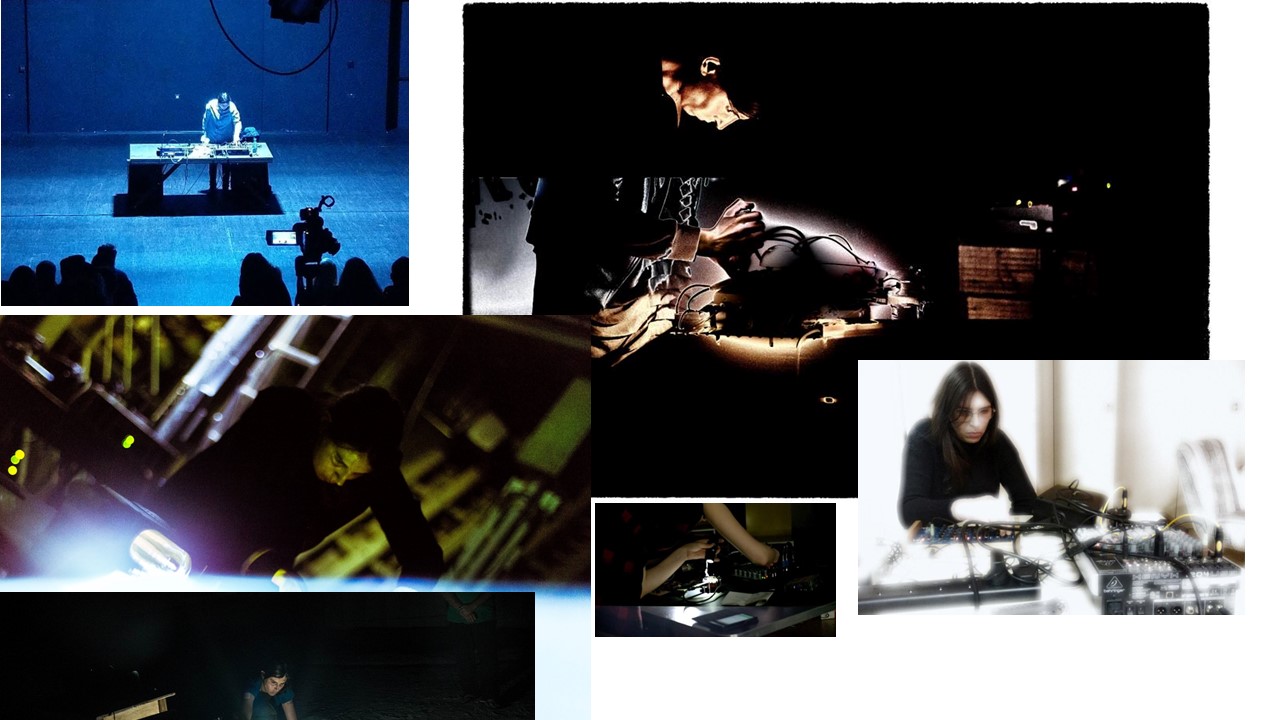 medial dark ages
Experimental Track
Experimental track with EM detektors, LDR oscillators, PD drum machine, coils and lights.
Medial Dark Ages, a Live AV Performance by Laura Netz consisting of experimental electromagnetic power noise with DIY circuitry and a handmade synth. DIY oscillators, based on Schmitt triggers, using optoelectronic components produce a repetitively modulated wave. The strobe light controls the circuits modulating the signal. The light triggers sonic signals. In a sound/light integration, the modulation of tone activates an interactive system based on DIY. It is a self-generated sonic machine creating a syncopated, high-pitched, noisy beep. The flickering from the strobes assaults the senses to create neurological after-images. The audiences' subconscious and altered states are activated to an open experimentation of feelings and knowledge. The sound results in a psychic noise music with references from postmaterialist perspective on technology, such in James Bridle – New Dark Ages – and experiments in electronic synthesis with frequency modulation, amplitude modulation and waveshaping. Medial Dark Ages experimental electronics performance intends to fit music technology in the context of radical critical thinking and media archaeology theory. More audio @ Archive.org . Download PDF here . More videos on my YouTube channel.
Laura Netz (Barcelona, 1982). Participant at hacking culture and noise scene has taken part in many international events, such as exhibitions, workshops, conferences, and concerts. As a Live Performer, she has acted in various festivals and events in London and overseas: Noizemaschine, London; XX Studio, Montreal, Canada, 2015; Noise Toys Orchestra, Cafe Oto, London, 2015; Sonica FM, London, 2015; OneBeatEcho, New York, US, 2014. In 2014, she released her first record at the [EdP069] Editora do Porto. In 2015, she launched her independent record label EAM Elektronische-art-and-music. She is well-known in London noise scene where she performs under the moniker Laura Netz / Medial Ages. Nowadays, she is promoting the series Sonic Electronics taking place in London, various venues, where inviting different artists from the community influenced by noise, experimental, electronics and open source music.
Inspiration
Marvin Minsky at MIT Media Lab: Anything that you hear about computers or AI should be ignored because we're in the Dark Ages. We're in the thousand years between no technology and all technology. You can read what your contemporaries think, but you should remember they are ignorant savages
Reviews
Richard Thomas: We reach the finale. Sonic Electronics promoter Laura Netz transmits a fairly fast perpetual zoom into a black and white Aubrey Beardsley-esque fractal visual domain. Musically we hear a low bass growl and the sound of what could be a metronome or an old ticking clock. It feels like long haul territory to me, and indeed it is. The relentlessly monotonous, funkless, listless, minimal techno is excruciating. Even the visual zooming feels like stasis. But then again, maybe that's the point, that's its poetry. It speaks of an aspect of our times. The Wire – May 2021 (Issue 447)
Loose Lips: In the final act of the night, Medial Ages encompassed a presentation of visual oscillators that produce repetitively modulated waves. The oscillator, a light source, controls the circuits modulating the signal in the integration of sound and light. The most 'noisy' performance of the night, the repetitive nature of the sounds was uncomfortable, particularly when paired with the strobe light. Recalling The Bug's statement that, 'not all music has to make you feel good' [sic], I embraced the convulsing noise and agitating light, and eventually found something else entirely. When it was over, I felt a cathartic release that differed from dancing all night, but one that was nonetheless effective. The sheer force of stimulation floods your brain, and so when taken away, I experienced something akin to meditation, but in reverse. Rather than clearing my mind of thoughts, the silence aided me in freeing up my mind. LooseLips, Author Josh Gray, Published, Tuesday, 9th October 2018, http://loose-lips.co.uk/blog/queer-noise-a-psycho-social-experiment
Interviews
The Sunday Tribune, In Conversation with Laura Netz, Artist, Curator and Researcher. Published on in Art/Latest/Spotlight by Jude Cowan Montague. https://www.thesundaytribune.com/2019/09/11/in-conversation-with-laura-netz-artist-curator-and-researcher/
Concerts
2022 Electropixel, Iklectik, London
2022 Iklectik, London
2021 Fringe Arts Bath – CoLab, online
2021 Festival Int Cine UNAM, MX-SP, online.
2020 IN-SONORA, Madrid, SP, online.
2020 Ten Acres of Sound, Artefact Stirchley, Birmingham, online
2020 OsCiLlAtIoNs, Iklectik Art Lab, online.
2020 Fringe Arts Bath, CoLab Sound, online performance
2020 Resonance FM, The News Agents, online broadcast
2020 FILIASON #10.2, Asso Apo, online streaming
2020 IN-SONORA, Madrid, SP (cancelled due to covid19).
2020 Sonic Electronics, Iklectik, London.
2019 Tatsuru Arai / Bioni Samp / mathr&netz, IKLECTIK, London.
2019 Electropixel – London: Electronoise night, Stour Space, London.
2019 Dissolving Boundaries II, The Glove that Fits, London.
2019 Different people doing different things together, The Raven Tower Bridge, London.
2019 Noiseberg, Berlin, GR.
2019 Bruital Nights, Loophole, Berlin, GR.
2019 Listen to the Voice of Fire, Ceredigion Museum, Aberystwyth, UK.
2019 Portents, The Space, London.
2019 STEEP, The Intimate Space, St Mary's Tower Hornsey, London.
2019 Audioblast Festival #7, APO-33, online streaming.
2019 Apo33, Nantes, FR.
2019 Corpora Aliena, Iklectik, London.
2019 Sonic Electronics, The Others, London.
2018 </coding in GE> : Corazon de Robota + Laura Netz + Isnt'ses, Iklectik, London.
2018 Sound Art Sunday: Melmann, Tehkla, Netzzz. SET Dalston, London.
2018 MUSLAB, Mexico.
2018 Skrontronic, New River Studios, London.
2018 Karkowski re:mix, London.
2018 Mental Roofs, New River Studios, London.
2018 Magia Roja, Barcelona, CAT.
2018 FINSBURY PARK BEEHOUSE – WORLD HONEY BEE DAY – FUNDRAISING EVENT, London.
2018 THSF, Toulouse, FR.
2018 CRUX at Temporary Autonomous Art, London.
2018 Music For DIY Electronics – Soho Radio, streaming.
2018 Brutal Noise Dronica, Resonance Extra, streaming.
2018 Radio CONA, Ljubliana, Slovenia.
2018 Corpora Aliena: Elektro Moskva (film) + Alexei Borisov, IKLECTIK, London.
2018 La-Di-Da Intonation, London Fields Studio, London.
2017 Gliwice, Poland.
2017 Fabryka Sztuki, Lodz, Poland.
2017 Noise Shed, Windmill Brixton, London.
2017 Primal Uproar, Hamburg, Germany.
2017 Salon Lates Friday, London.
2017 Sonic Cyberfeminism, University of Lincoln, UK.
2017 Massage Brain Cult, Haunt, London 
2017 Audioblast Festival, Apo33, Online Streaming
2017 IFAR Musique Concrete, Formes dans l'espace compilation
2017 Supernoise Festival, Aarhus, Denmark.
2017 EAM 2801, Vynil Deptford, London.
2016 Spatchcock Christmas Special, London.
2016 Technoshamanism Festival, Brazil.
2016 Dronica, Old Church Stoke Newington, London
2016 Experimental film screening, Haunt, London
2016 Fibrr records, album release, Nantes, France
2016 NoiseShed, WindMill Brixton, London
2016 Cafe Oto, London
2016 Spark, Chelsea College of Art, London
2016 Experimental Sound Gallery, St. Petersburg, Rusia
2016 Noise & Fury, Moscow, Rusia
2016 Concrete Music, The Horse Hospital, London.
2016 Art and Culture Outreach, Hong Kong.
2016 New River Studios, with oMMM, Eden Grey, and Scenes from Salad, London.
2016 Warmi Noise [ Suda 0037 ] Sudamerica Electronica, online.
2016 Phas.e Platform Radio Show – E003 – Experimental Electronics, online.
2016 Open Jack Weekend, New River Studios, London
2016 Noizemaschine, Amersham Arms, London
2015 A fuckin' noisey New Years Eve, New River Studios, London 
2015 XX studio, Dj set radio show, Montreal, Canada.
2015 Noise Toys Orchestra, Tasos Stamou, Cafe Oto Project Space, London
2015 Sound Art Event, iklectik art lab, London
2015 Sonica FM, London
2014 [EdP069] Editora doporto – Medial Ages – Album Release 
2014 OneBeatEcho, US 
2014 Improvised Electronic Round Up. New York 
2014 CRUX 1,2 – Electronic Music MeetUp, London
2014 THE A BAND The Rhythm Factory, London
2014 Best of Salon des Refusés, Londonewcastle Arts Programme, London
 2014 Sound Art Event, Antic Forn, Barcelona, CAT.
---
---
---
---
Techno Track for Corpora Aliena
---
---
2018 MUSIC FOR DIY ELECTRONICS – Soho Radio
---
---
2017 PRIMAL UPROAR – Live
---
---
2016 Experimental Sound Gallery, St. Petersburg, Rusia – Live
---
---
Medial Ages tocando noise no II Festival Internacional de Tecnoxamanismo